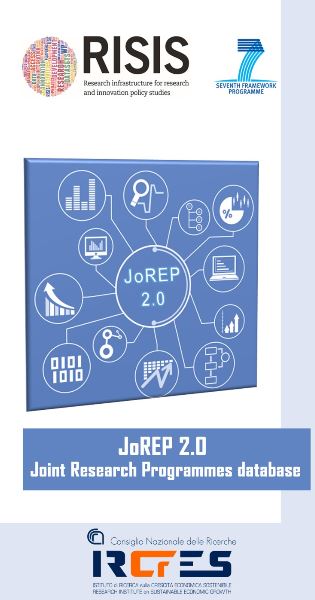 **JoREP 2.0 is one of the facilities offered by EUFP7 RISIS project [http://risis.eu/]**
Content of the database
JoREP 2.0 is a database on joint R&D programmes which are (i) European-level publicly funded research initiatives, for which at least one of them functions is shared between more than one country, in principle open to all the countries belonging to European Research Area (ERA) either because they are established by the European Union or because they are based on international treaties, and (ii) publicly funded research programmes established by a group of countries through a bilateral/multilateral agreement.
It provides a quantitative basis for the monitoring of investments in joint R&D programmes for 32 countries (EU28 countries plus 4 associated countries), pointing out the policy rationales behind them and their impact, and allows analyses of the modes of the ERA dynamics, figuring out the national strategies of participation. [More info at http://datasets.risis.eu/]
Financial conditions for the access
EUFP7 RISIS project will cover the following costs:
Travel to Rome and back (airplane economy fare or train) for the 'on-site' visit;
Accommodation in Rome.
IRCRES CNR, the managing institution of JoREP 2.0, will also offer:
Staying up a week at IRCRES CNR seat of Rome (ircres.cnr.it);
Workplace to query the database and analyse data;
Tutoring and advise on the use of data.
How to require the 'on-site' visit
Applicants must follow the rules for the request of access indicated in the attached flyer ('Procedure for the access' section).
The application dossier for visit include:
– a simple form to complete on the RISIS project website;
– a short description of the research project;
– short CV and publication list of the applicant.
Contacts and info
Dr. Andrea Orazio Spinello (andrea.spinello@ircres.cnr.it);
EUFP7 RISIS project website: http://risis.eu.
Please forward to other interested researchers or PhD students!