CALL FOR PAPERS: EU-SPRI Early Career Conference "Public R&D funding and evaluation: Methods, Trends and Changes"
***CALL FOR PAPERS***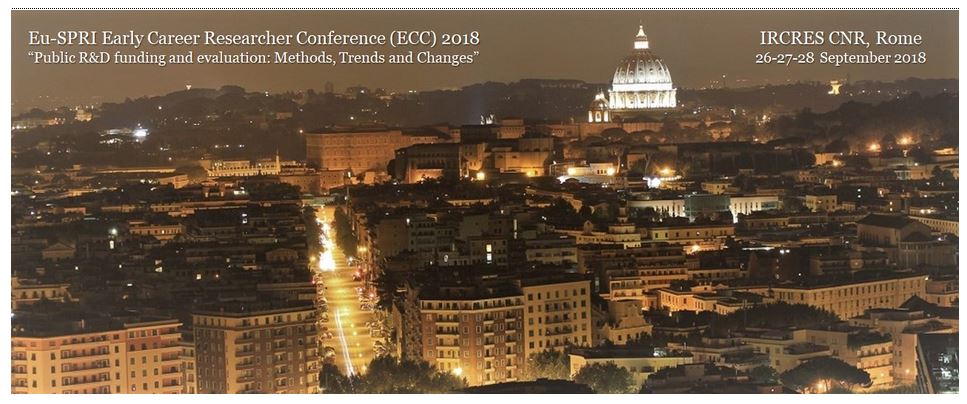 the call for papers for the EU-SPRI Early Career Conference "Public R&D funding and evaluation: Methods, Trends and Changes" is now open!
The conference intends to bring together the ongoing research and policy debate on methods, trends and changes produced by the modes of R&D funding allocation, considering also the evaluation methods and practices of proposals submitted and the effects produced by the funding allocation on the beneficiaries.
Conference will take place in Rome on 26-27-28 September 2018, at IRCRES CNR – Research Institute on Economic Sustainable Growth, 19, Via dei Taurini, Rome, Italy.
The deadline for submitting contributions for this EU-SPRI Early Career Conference has been extended to May 20th 2018.
Reference email: eccrome@ircres.cnr.it
Further details are available at the official site of the Conference: http://eccrome.ircres.cnr.it
The Organizing Committee,
Dr. Antonio Zinilli (chair)
Dr. Marco De Biase (secretariat)
Dr. Andrea Orazio Spinello
Dr. Serena Fabrizio
Dr. Lucio Morettini
Dr. Emanuela Reale
Facebook:
https://www.facebook.com/profile.php?id=100008580558787
Twitter:
https://twitter.com/ecc_rome