Eu-SPRI ECC 2024 Call for Papers is now open!
Join us for Eu-SPRI ECC conference in Rome, organized by CNR-IRCrES. Call for Papers is now open. The Eu-SPRI ECC conference showcases the profound impact of science, technology, and innovation policies on long-term sustainable development. With the participation of various disciplines, the conference analyses the complex relationships between STI policies and the societal challenges.
Researchers and experts from diverse fields, including sociology, economics, statistics, and political sciences, are called upon to contribute to Eu-SPRI 2024. The conference extends its reach to encompass those in Natural Sciences and related areas. The event also welcomes early career researchers and PhD candidates, aiming to elevate research policy and innovation studies. Participants are encouraged to submit abstracts (500-1000 words) of their original research papers. The submission should provide clear insights into the research question, methodology, results, and implication for STI policy and sustainability.
Dr Antonio Zinilli is the Chair of the Conference which will take place in Rome from 6th to 8th March 2024, offering an opportunity to share thoughts, discoveries, and to engage in a rich exchange of knowledge.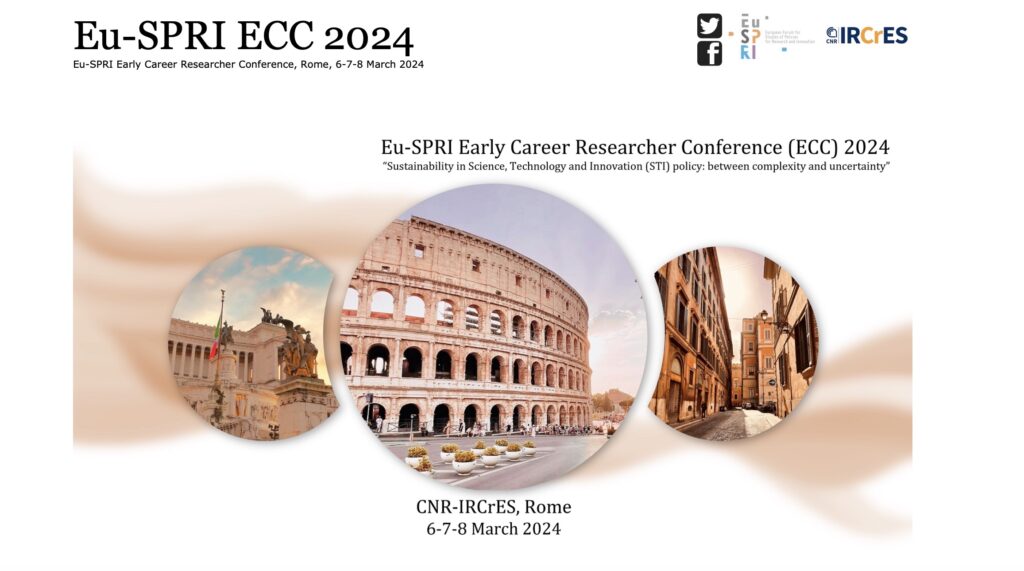 Call for papers: https://eccrome.ircres.cnr.it/images/Eu-SPRI-ECC-2024_Call-for-papers.pdf
All submissions must be in English and must be sent to eccrome@ircres.cnr.it. Deadline to submit: 15 October 2023.
The ECC website (https://eccrome.ircres.cnr.it/) provides further details for those interested in joining us.