IWcee2022 – call for paper deadline extension
Call for paper deadline for the 10th International Workshop on Computational Economics and Econometrics – IWcee22 has been extended to 9th May 2022.  We invite you to submit an extended abstract in pdf format (min. 1000 words, max. 2000 words) of a well-developed paper  with a description of a study that you would like to present at the workshop.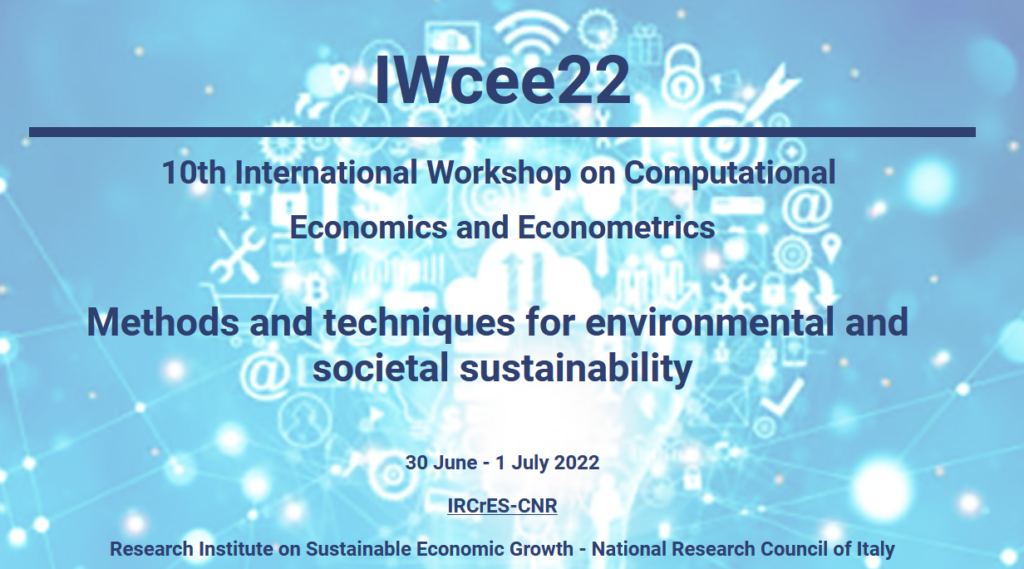 This edition of the workshop will be dedicated to the theme Methods and techniques for environmental and societal sustainability. IWcee22 aims at an international and multidisciplinary audience promoting rigorous examination of relevant socio-economic and policy issues. The workshop's areas include computational and simulation methods for tackling relevant societal challenges.
The workshop will be held from 30th June to 1st July. After two years in which the workshop was held only in virtual form, this year we return with a partial physical presence, proposing a hybrid form in which it will be possible to follow the workshop via web but it will be possible to physically participate for a predetermined number of people.
We will be happy to welcome you at the Rome office of CNR-Ircres, the Research Institute on Sustainable Economic Growth, in Via dei Taurini 19, Rome.
Further information are available on IWcee2022 web page.